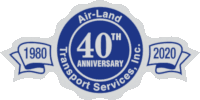 Careers
Employment
Air- Land has opportunities for driver, mechanic, and administrative positions in order to keep pace with the growth of the company. We encourage applicants to contact us about the possibility of a career with Air-Land.
Benefits
* subject to change
Premium
Single $30.00 per week.
Family $70.00 per week.
Deductibles
Network $2,500 Individual / $5,000 Family
Non-Network $5,000 Individual / $10,000 Family
Per calendar year.
Out of Pocket
Network $6,850 Individual / $13,700 Family
Non-Network- $10,000 Individual / $20,000 Family
Per calendar year.
Doctor Visits
Network  First 3 visits per year at no charge.  Then you pay 20% Co Insurance after the deductible is met.
Non-Network You pay 50% Co Insurance after deductible is met.
Prescription Plan
30 day supply   Tier 1  $10.00,  Tier 2  $35.00, Tier 3 $60.00
90 day mail order  Tier 1 $25.00, Tier 2 $87.50, Tier 3 $150.00
(See  Hr and Plan documents for full description)
Dental Insurance
Single  $5.00 per week
Family $10.00 per week
Vision Insurance
Employee  $9.85 per month
Employee & Spouse $16.60 per month
Employee & Children $16.91 per month
Family  $26.79 per month
Life Insurance
Air-Land automatically pays for $25,000 life insurance  for the employee after 90 days of employment.
The Employee is able to buy additional life insurance for him/her self and or family at an affordable rate.
Other Insurance
Air-land also provides the ability for the  employee to purchase, at an affordable rate,  the following.
Critical Illness, Short Term Disability and AD&D Insurance. Ask us for details
Holiday Pay
After 90 days of employment you are eligible for 6 paid holiday's
Paid Time Off
5 days after 1 year of employment, 10 days after 2 years and 15 days after 10 years.
1 personal day after 3 years, 1 flex day after 4 years and 2 flex days after 7 years.
401K
After 90 days you are eligible for 401k. Air-land matches 100% of the first 3% of your wages you contribute
And 50% of the next 2% of your wages you contribute.
You are 100% VESTED after 3 years of employment.
Contact us on any questions about our benefits. Health Insurance is a big part of choosing an employer and at Air-Land we are making our health insurance affordable with affordable premiums and excellent coverage.
Employment for Drivers
Minimum Driver Qualifications:
Must be 25 years of age or older
Possess a valid CDL Class A License
Possess or be able to obtain the hazardous materials endorsement
Have one year verifiable tractor-trailer experience within the last three years
No DWI/DUI convictions within the last 7 years
No reckless driving convictions within the last 7 years
No more than two moving violations within the last three years
No major preventable accident within the past twelve months or more than two in the past five years
No driver's license suspension in the past three years
Applicant must pass the Functional Physical Assessment, a DOT physical and DOT controlled substance test
A conviction form must be filled out for all felony convictions
(a conviction will not necessarily disqualify you from employment)
Meet all applicable federal, state, and Air-Land Transport Service, Inc. requirements
Office / Mechanic Application Steps:
Fill out PDF application and save to your computer
Upload completed application to the form below
Fill out form and sign
Submit! An HR representative will be in touch via phone or email soon
Any questions can be directed to:  HR@air-land.com